RaceMenu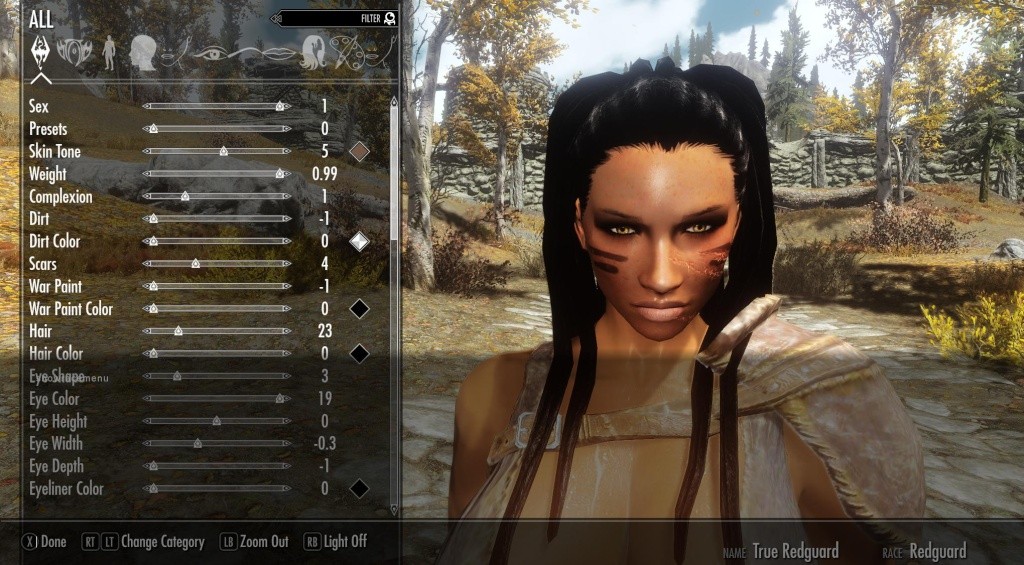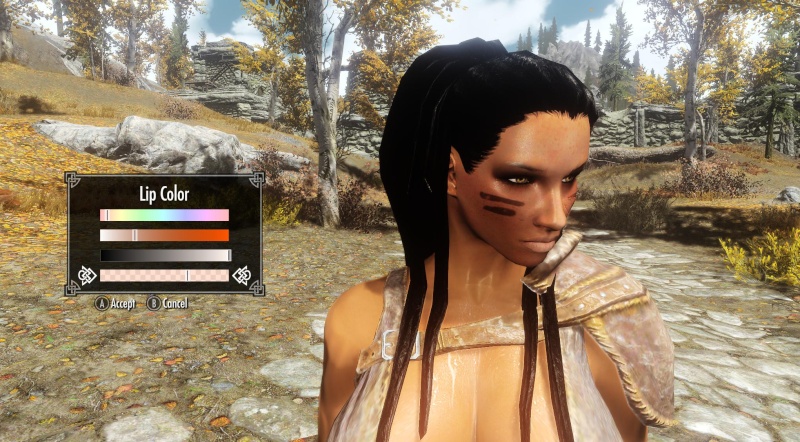 Note: This mod overrides the original Create A Character menu. You can see this menu at the start of a new game or by typing in the command in console: showracemenu
It has extended options beyond the default version that comes with the game and is modeled after the famous menu mode, SkyUI. I had been keeping an eye out for this mod ever since the author announced it.
Body model in the pics is from ADEC Eye Candy Body
Quoted From The Author:
REQUIREMENTS

The Skyrim Script Extender (SKSE), Version 1.6.6 (or newer) is REQUIRED to run the RaceMenu.


PURPOSE

The RaceMenu was redesigned with the intention of using SKSE to allow for more in-depth customization of your character.


FEATURES

•Numeric display for all sliders
•Categorizes all the vanilla options to the SkyUI look
•Search filter by name (Same as SkyUI)
•Color ANY tint, including hair with an AARRGGBB value
•Loads/Saves settings when re-opening the menu
•Light On/Off (Spawns a white light directly infront of your character)
•Zoom distances adjusted to be closer to the face when In and slightly further when out
•Adjust player height
•Adjust player bicep size
•Adjust player breast size (Only works for meshes that support skeletal scaling e.g. BBP)
•Basic plugin interface
•Controller support
•Works with any race, including custom races
•Doesn't modify any vanilla assets (Unlike my Extended Slider Colors mod)
•Multi-warpaint support
•Warpaint texture hotswapping (Custom warpaint)
•Display racial skill bonuses
INSTALLATION
Automatic Download with NMM
•Click the Download with manager button on top of the file.
•RaceMenu will appear in in NMM's Mods list once it's downloaded. Double-click the RaceMenu entry to Activate it.
OR
Manual Download with NMM
•Start NMM and click on Mods.
•In the left icon bar, click on Add Mod From File and select the downloaded archive file.
•RaceMenu will now appear in the list. Double-click to Activate it.
OR
Manual Installation
•Locate the Data/ folder in your Skyrim installation directory. Typically it's found at Program Files/Steam/steamapps/common/skyrim/Data/.
•Extract the contents of the downloaded archive file to your Data/ folder.
•In the Skyrim Launcher, select Data Files and enable RaceMenu.esp.